Scroll down for more photos of the company's sleek new offices in Lexington, MA
Growth strategy firm Innosight focuses on helping organizations design and create the future, rather than being disrupted by it. So it should come as no surprise that when it came to designing their own new office as they moved from Watertown to Lexington in 2011, the team at Innosight wanted to ensure that their space reflected their organizational values and culture.
The move to Lexington also gave the growing firm an opportunity to create a sophisticated environment that reflected its innovation leadership.
"We wanted a clean, modern feel in the new space," says Kristen Blake, senior marketing manager at Innosight. The office has been described as reminiscent of an Apple store, the white, modern aesthetic and proliferation of clear glass quite literally reflective of Innosight's transparency values.
They also focused on subtlety in their design, providing a powerful visual impact but not interrupting the creative process and innovative thinking and work taking place at Innosight.
Different workspaces that suit different tasks
But what's perhaps most interesting about Innosight's design is the sheer variety of working areas available. As experts have discussed on this blog before, creating a variety of workspaces that suit different tasks is the new "open office space," and Innosight is an amazing example of this.
Innosight's unique spaces include the Business Design Lab, a flexible conference-style space that hosts everything from internal meetings to CEO Summits. They also host a creative wing called the Teal Wing that features Legos, tricycles and colorful couches and carpets to spark inspiration and the "Tunnel," an open meeting space with a whiteboard wall that provides the chance for passers-by to chime into meetings. Team Rooms that are dedicated to a specific project and provide a confidential, locked space for work and meetings.
Of course, no amazing workspace is complete without a great kitchen – here, the InnoCafe features a stocked fridge, LeanBox, and flat screen TV, and an on-site gym with twice-a-week training sessions, equipment, a music system and its own locker room. When the weather's warm, employees migrate outside to picnic benches, Adirondack chairs and a patio with a grill.
Today, Innosight has 100 employees, with 75 people right in the Lexington office, and takes up 30,000 square feet on two floors.
"We get a tremendous reaction from people about this building," says Blake. "Clients want a tour when they walk in the door. People who work here say it's refreshing to be in the space, opting to come into the office rather than work from home."
The Innosight Lobby
Featured in the images above. Guests and employees alike are greeted by a sleek lobby with a comfortable reception space and flat screens with custom content to make waiting easy. (Photo credit: Robert Benson)
Lobby conference room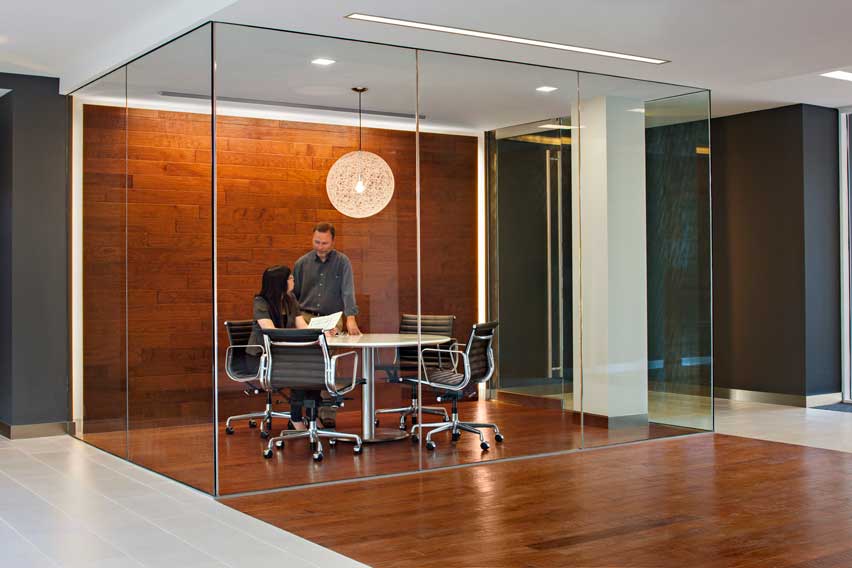 Transparency is a big value for Innosight, and it's reflected right in this small conference room off the lobby, with glass walls and a funky light fixture. (Photo Credit: Robert Benson)
The Business Design Lab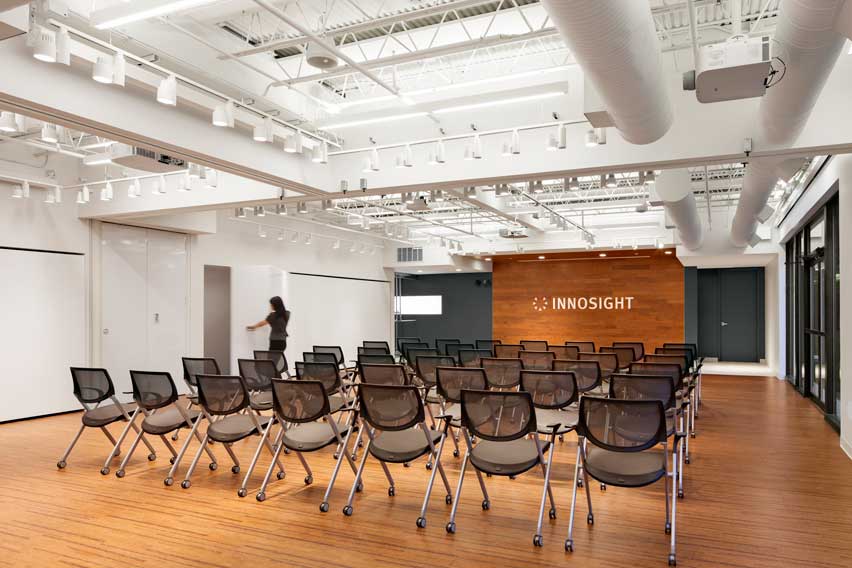 Innosight's pride and joy, the 2,000 square foot Business Design Lab holds up to 110 people and provides a space to bring CEOs and experts into the Innosight world with everything from summits to book signings. (Photo Credit: Robert Benson)
Flexibility for maximum creativity
The Business Design Lab allows for a variety of setups, including modular rooms with whiteboard walls, to help facilitate creativity, collaboration and thought leadership. The room is outfitted with iPads for everyone who enters. (Photo Credit: Robert Benson)
Team rooms for concentrated project work
Because of the nature of their work, Innosight employees often seek privacy and confidentiality as they work on projects. The company answered this need with a set of Team Rooms. Each provides a private, dedicated space for a particular conference and access is locked and restricted when it's empty, providing a place to leave materials. (Photo Credit: Robert Benson)
An Informal Meeting Space
The Innosight Tunnel provides an informal, café-style meeting space for collaboration and brainstorming, often from unexpected sources. Located in a high-traffic area, the Tunnel allows for informal surveying of colleagues as they walk by, whiteboard brainstorming or just a place to get out of the office for a change of scenery. (Photo Credit: Robert Benson)
Fueling up at the InnoCafe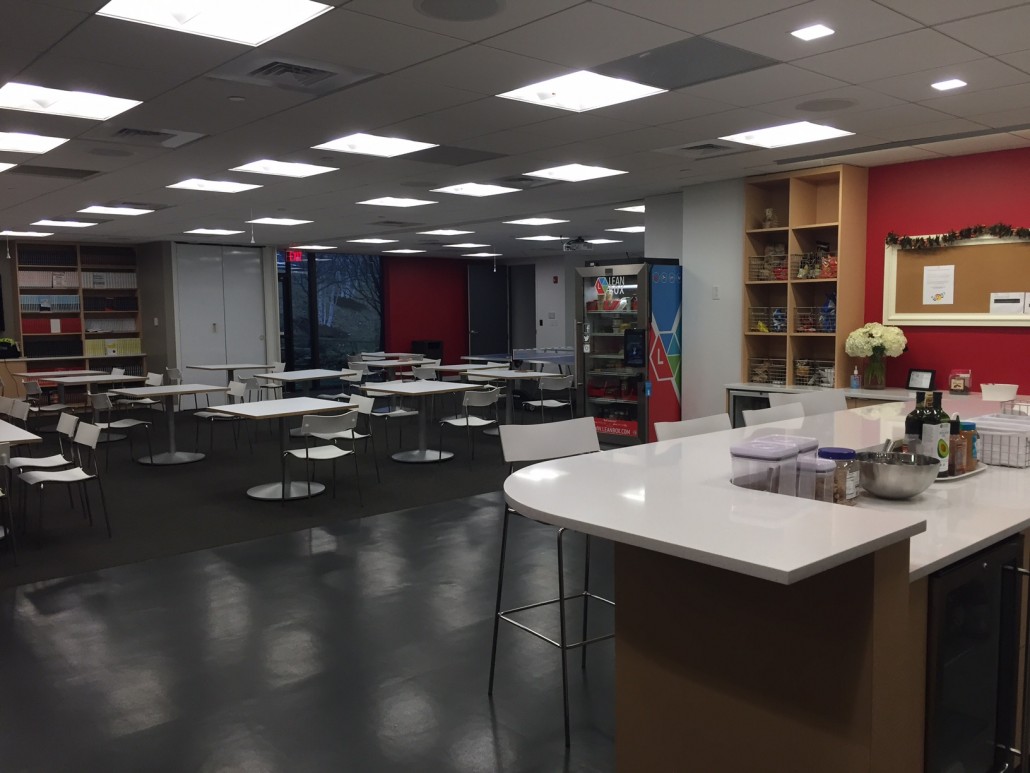 Healthy, refreshing snack and meal choices abound in the company's cafeteria space. A large, fully stocked fridge offers fruit, yogurt English muffins and other healthy noshes and a LeanBox provides ever-rotating options for meals, snacks and drinks. (Photo courtesy of Innosight)
Balanced Living at the Innosight Gym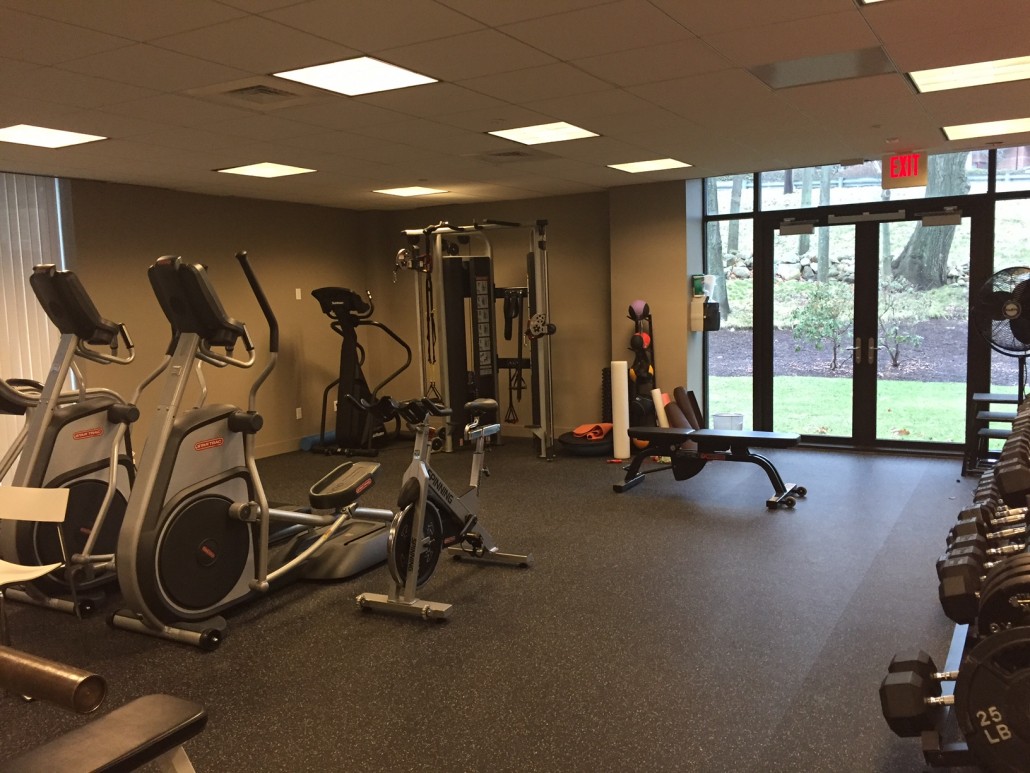 Innosight's Social Steering Committee took it upon itself to redesign a gym in the office last year. Aside from workout machines and equipment, the gym has its own locker rooms, a TV and music system. Twice a week, trainers come in to work with willing Innosight staffers. (Photo courtesy of Innosight)